If anything, 2020 has reminded us how vulnerable we are, and how much we need each other. Andrea and I were never so proud to partner and work with scores of inspiring non-profit professionals, volunteers, donors and friends. You kept positive through an enormously taxing year and kept focused on championing your noble missions to touch, improve and save more lives. How has the year changed us and the way we will think about the future? I would like to quote 
Kathleen Parker,
 writing in the Washington Post, "As we're forced to consider our mortality, prematurely for so many, what thoughts occupy our minds? Not work, I'm guessing, but family and friends, dreams unrealized, legacies achieved and left undone and, cutting to the core, missed opportunities to spend time with those we love." To echo her sentiment, we thank you for being part of our lives. We wish you all the best for a happy, healthy and safe holiday season. Know this: You have played a personal role in empowering all of us to look forward to 2021 with a renewed sense of hope, optimism and shared conviction that the best is yet to come.
MacKenzie Scott
 is giving away her fortune at an unprecedented pace, donating more than $4 billion in four months after announcing $1.7 billion in gifts in July. The world's 18th-richest person outlined the latest contributions in a blog post, saying she asked her team to figure out how to give away her fortune faster. Scott's wealth has climbed $23.6 billion this year to $60.7 billion, according to the Bloomberg Billionaires
Index, as Amazon.com Inc., the primary source of her fortune,
has surged. Scott's advisers zeroed-in on 384 groups to receive gifts, after considering almost 6,500 organizations. Donations were focused on those "operating in communities facing high projected food insecurity, high measures of racial inequity, high local poverty rates, and low access to philanthropic capital." Recipients include more than 30 institutions of higher education, including several tribal colleges and historically Black colleges and universities. More than 40 food banks received money, as did almost four dozen local affiliates of Goodwill Industries International. It was exciting to see my last employer, Alamo Colleges, receive $20 million, targeted for Palo Alto College, and my friends at the United Way of San Antonio and Bexar County receive $20 million, as well as several other deserving area non-profits benefit. The money was distributed to organizations in all 50 states, Puerto Rico, and Washington D.C. She said the gifts are unrestricted and the money provided upfront. 
Behind the Hallelujah chorus in the introduction of the first COVID-19 vaccine was textbook collaboration between science, industry, philanthropy and government. A heroic leadership role was played by Pfizer Chairman and CEO Albert Bourla who kept pushing, pushing and pushing, and in doing so, cutting the typical turnaround time from more than 10 years to under one. By his own admission, his demanding leadership bordered on the unreasonable. From urging vaccine researchers to move fast to pressing the manufacturing staff to ramp up, Bourla motivated employees to go beyond even their own ambitious goals to meet a gargantuan challenge. He proudly points to 248 long days and nights, 150 active clinical trial sites in six countries, 43,661 courageous volunteers, plus thousands of dedicated Pfizer and BioNTech SE colleagues, and the hopes of billions, all culminating in one glorious moment. Bourla's personal journey is fascinating. He was born in Greece to Jewish parents and began his career as a veterinarian. He joined Pfizer in 1993 and steadily worked his way up, becoming CEO in 2019. Much like philanthropy itself, the vaccine success story demonstrates what we can accomplish when we come together for a common and uplifting goal. These are moments when we can make the impossible possible!
You've been making suggestions on topics and speakers to highlight in the new year, and we've been listening. Our 2021 webinars will be held on Wednesdays, 4 to 5 p.m. Central time. Everyone in our Constant Contact database will receive an invitation the Friday of the week before. Here are some of the speakers and topics already lined up for 2021:
January 6: Write Like You Speak, Allen Paul, former political speech writer, journalist and author
January 13: Gifts We Really Need – Unrestricted, Missy Gale, President & CEO, M. Gale & Associates
January 27: Do's and Don'ts of Virtual Communication, Mary Ullmann Japhet, Founder, Japhet Media
February 3: Path to Partnership, Marta Brockmeyer, Ph.D., Facilitating Nonprofit Success 
February 10: What Gets News Coverage, What Doesn't, Charlotte-Anne Lucas, Executive Director, NOWCastSA
February 17: Board Engagement in Fundraising, Brian Saber, President, Asking Matters
February 24: The Power of Planned Giving, Patrick Schmitt, Co-Founder & Co-CEO, FreeWill
By the way, our senior cat, Billie, will continue in her role as my webinar muse. If you're not in our Constant Contact database or know someone who would benefit from receiving our monthly newsletter and free webinar invitations, they can 
sign up here
.
In the spirit of Mark Twain's famous "reports of my death are greatly exaggerated," direct mail is far from dead. Up to 90% of direct mail gets opened, compared to only 20% to 30% of emails.
Some more eye-opening stats from Data & Marketing Association and the United States Postal Service:
*Direct mail had an average response rate of 9% for house lists and 4.9% for prospect lists.
* Direct mail recipients purchased 28% more items and spent 28% more money than people who didn't get that piece of direct mail.
* Direct mail offers a 29% return on investment.
The power of direct mail and other cost-effective marketing will be highlighted in our December 23rd webinar, Breaking Through the Noise, featuring Katie Lord, Vice President, Nonprofit Development, Proof Positioning. One of the many things I like about Katie is that she is equally as savvy in her knowledge of marketing and fundraising. 
You can register for this webinar here.
Laughter is the Best Medicine
No matter what you do, the power of humor can be a powerful ally. For a non-profit leader and fundraiser, it has the power to impart confidence and build and deepen relationships. It can be especially valuable during a solicitation to ease tensions and bring donor and solicitor closer together. Toastmasters International points to three types of humor: (1) Relatable humor relies on a reference the audience understands. It allows them to relax and feel like they're listening to a friend.
(2) Self-deprecating humor is an option if you're willing to make fun of yourself — it shows you are human and contributes to your likeability (This is my personal favorite since I have so much to work with.).
(3) Finally, humor that leaves you vulnerable can help you bond with an audience, because if you speak from the heart and help the crowd laugh about serious topics, your message will be clearer in their minds.
Join us for our December 30th webinar, The Power of Humor, led by Nina Duran, whose background includes teaching the communications arts at the college level, running a scholarship foundation, and Showrunner of the Bean & Chisme comedy act. We promise this will be a fun learning experience to end the year. 
You can register here.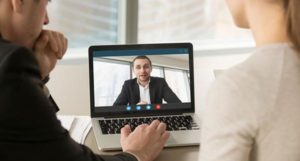 Hopefully, as 2021 progresses, we will see a resumption of face-to-face meetings with donors and donor prospects. But even then, we're not going to see an abandonment of virtual communication, especially video-conferencing. Often the steepest hill to climb is simply getting on the schedule of donors, especially major gift donors. Video-conferencing is so scheduling-friendly. Virtual communication is different than an in-person meeting. We need to plan, strategize and prepare very differently. Right now, we all must confront the challenge of Zoom Fatigue. You can read my article published by Candid Learning for more on the subject. 
Is there anything more annoying than endless Robo calls? A Pew Research Center web survey of U.S. adults indicates that Americans just aren't picking up the phone much anymore. Eight in ten Americans say they don't generally answer their cellphone when an unknown number calls. But not all Americans are equally likely to ignore these calls. While at most, a quarter of Americans from any demographic group say they generally answer the phone for an unknown number – and 19% of U.S. adults overall say they do so – men are more likely than women to answer the phone. And though much has been made of younger adults' distaste for phone conversations, the survey finds that Americans ages 18 to 29 are more likely to take calls from unknown numbers than those in older age groups. In addition, Hispanic and Black adults are more likely than White adults to say they generally pick up for a number they don't recognize, as are those living in households with lower income levels compared with those from middle- and higher-income households. The majority of Americans (67%) say their general practice is to not answer the phone when an incoming call is from an unknown number but to check a voicemail if one is left. The share of Americans who say they generally ignore any voicemail left after not answering a call is relatively low (14%) but does vary by gender, race and ethnicity, and income level.
As the NFL limps its way to the finish line this season amid the COVID-19 pandemic, teams are continuing to restrict the number of fans in the stands, with many stadiums having none at all. ESPN's Kevin Seifert illuminated how that trend is hurting more than just the fans themselves — it appears to be negatively affecting home teams as well. Road teams this season, Seifert reported, have won 49.3% of games. That's the highest rate since at least 2001, and according to the NFL, the top modern-day road winning percentage for an entire season is 48.4 in 1972. From 2001-2018, the average winning percentage for a road team was 42.9. Last year, that number increased to 47.15, and it's even higher this year. The photo shows the New England Patriots playing the Arizona Cardinals in the first half of a game at an empty Gillette Stadium. To be frank, the way the Patriots have played this year, I don't know how many fans would show up even without restrictions.
On the Bookshelf: Delusional Altruism
In 
Delusional Altruism: Why Philanthropists Fail To Achieve Change and What They Can Do To Transform Giving
, global philanthropy expert Kris Putnam-Walkerly provides real-world advice and practical guidance to help philanthropists avoid common delusional thoughts and practices that drastically hinder them from achieving transformational social change. In addition to helping you uncover self-limiting fallacies and how they may be manifesting in your giving efforts, Putnam-Walkerly shares proven strategies to avoid and overcome these pitfalls to realize your goal for impactful, sustainable change:
*Ask questions that spur learning and fuel innovation.
*Believe that investment in yourself and your operation is important.
*Increase the speed of your actions to increase the impact of your giving (inspired by the example of MacKenzie Scott).
*Give in ways that create lasting, sustainable change.
*Follow strategies to make your philanthropy unstoppable.
Turning Up the Volume in 2021
Most people would never consider themselves a philanthropist. They reserve that for billionaires and the wealthiest among us who are in a position to make mega-gifts and capture headlines. Certainly, we are all indebted to that special group who have the capacity and heart to share so generously. But remember philanthropy isn't all about donating money. At the end of the day, anyone can be a philanthropist. It also means sharing your time, skills, and knowledge in any capacity — whether it's delivering food to seniors, building a home, or mentoring students. Each of us in our own way can and should make a difference in improving the lot of others and paving the way for brighter future.
The 2020 presidential election set a participation record, with more than 157 million people casting their ballots. Turnout increased in every state and in 98% of the nation's counties. Two-thirds of the eligible voting population in the U.S. voted in the 2020 presidential election, more than in any other presidential election in 120 years. Match the following states with their respective turnout percentage to answer this question. Answers are at the bottom of this page.
1. Calif.                      a. 55%
2. Mass.                     b. 60%
3. Minn.                    c. 69%
4. Okla.                      d. 72%
5. Texas                    e. 80%
Stratagems is published monthly by Jim Eskin, Founder of Eskin Fundraising Training, LLC. We offer workshops and customized training sessions for board members, staff and volunteers of non-profit organizations of all kinds and sizes. For details about our services and information, or to find out how to schedule a training session for your organization, visit our website. Follow our events on Facebook, and read more articles about philanthropy on our LinkedIn page.
TO ORDER A COPY OF JIM ESKIN'S BOOK, 10 SIMPLE FUNDRAISING LESSONS, CLICK HERE.
Jim Eskin, Founder
Eskin Fundraising Training
Email: [email protected]
Cell: 210.415.3748
www.eskinfundraisingtraining.com
ANSWERS TO THIS MONTH'S QUIZ: 1=c, 2=d, 3=e 4=a, 5=b